Buy In Ghana From KOFshop.com |

Best Prices

|

Best Quality At All TIMES

| Feel Free To Compare Prices Online.
Workout While Doing Nothing! This Muscle Stimulator Uses Electromagnetic Pulses to Firm, Tone & Strengthen Your Abs
Description
Do you ever feel like you don't have the time or energy to workout? This EMS 6-Pack Abs Stimulator is the perfect solution! Now you can work out your muscles while doing anything or absolutely nothing at all. This muscle trainer uses electromagnetic pulses to firm, tone, strengthen, and tighten your abs by stimulating and contracting your muscles without any effort from you at all. They're super convenient and easy to use with push-button operation and 6 mode options. Workout and activate your muscles while watching TV, doing chores, sitting in a car, or even while working! Getting fit and staying in shape has never been easier.
Electromagnetic pulses help firm & define your core by strengthening muscle contractions
Super convenient & easy to use w/ push-button operation and 6 mode options
Can be worn under your clothes so you can use it anytime, anywhere
Noticeable in just 4 weeks w/ 15- to 20-minute use per day
How To Use?
Insert two AAA batteries into the device
Attached the device to the pads
Remove the film
Place the pads onto your body & turn on the device
Note: In order to reuse the sticky gel pads, you'll need to clean them and stick them back onto the film.
Specs
Color: black
Materials: PU leather, silicone
Product dimensions: 0.5″H x 6.5″L x 7.5″W
EMS technology
Easy push-button operation
6 modes
Batteries: 2x AAA batteries (not included)
Includes
EMS 6-Pack Abs Stimulator
Get this 6 PACKS Stimulator from KOFshop.com and have it delivered to your doorstep!!
WHOLESALE AVAILABLE FOR THIS PRODUCT!!!

Features
1. Firms, Tones, Strengthens and Tightens Muscles
2. Electromagnetic pulses help firm and define your core with strengthening muscle contractions
3. Easy push-button operation with 6 modes, and 15 intensity levels.
4. Electrical muscle stimulation (EMS) Technology
5. 1 days 1 times, every 30 minutes of training, Exercise and tight muscles.
6. Using the original training pulse with the frequency of specific current
7. Design the training method of effective exercise muscles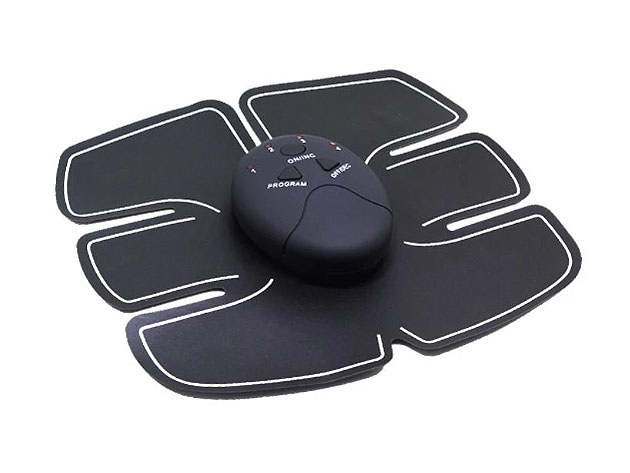 EMS Muscle Training Device Advantage
firms, tones, strengthens and tightens muscles
electromagnetic pulses help firm and define your core with strengthening muscle contractions
easy push-button operation with 6 modes.
electrical muscle stimulation (ems)technology
1 days 1 times, every 30 minutes of training, exercise and tight muscles.

using the original training pulse with the frequency of specific current

design the training method of effective exercise muscles
Technical Parameters
Color: Black
Power:NO.7 Battery*2(Not Included!)
Frequency:1-100HZ
Using mode:6 mode
Output:9.8mA